Boobs! Tits! Melons! Jugs!
Whatever you call them Learn to love them!
Breast come in all shapes and sizes depending on the amount of fatty tissue contained within. One's breast size and shape are generally described based on the classifications of the Bra & lingerie industry.
Prior to World War I, women breasts were stuffed into corsets and other single-fabric contraptions. The precursor of the two cup bra was designed by a woman named Caresse Crosby. She sold the patent for her concept -two handkerchiefs sewn together with attached ribbon straps- in 1913, and the beginning of the 11.3 billion lingerie business was born. Caresse's flimsy bras slowly evolved to more constrictive undergarments. Bra manufacturer's (run by men) began to sew the bras to girdles, thus tightly binding the woman wearer. These slowly evolved into pointy bras in the 1950s. (Is it any wonder why the woman's liberation movement began with folk burning their bras?)
Today's bras are more functional and comfortable. They provide support while "helping" a woman's figure to conform to current societal norms. Brassiere manufacturers have come up with nomenclature to allow standardization of their products. The chest size is actually determined by measuring the diameter of the rib cage below the breasts and adding 5. The cup Size is a measure of the volume of the breast, and is denoted by the first letters of the alphabet.
Breasts are usually asymmetrical, meaning that one woman's breast may be a different size or shape than her other breast. Interestingly, a woman's left breast is usually a little larger then her right breast, though this is only a generalization. (It is also quite common for men to have one testicle that is a different size or shape than the other.)
Something women struggle with is breast size. We are expected to have enormous boobs, but still be a size 2. I have large breasts and to all the women who think they should have them I say think twice. Now don't get me wrong I love my boobs, but they cause me problems. Sever back pain making it uncomfortable to run and bras are never comfortable. I am always putting them on and then taking them off trying to get some relief. Eventually I might even have to have a breast reduction. A childhood friend of mine had to get hers reduced because the weight of her breasts were actually causing fractures in her spine.
The survey also found that British busts have actually grown significantly in the past two years -- three whole sizes, to be exact. Back in 2010, Debenhams reported that their best-selling size was a 34B. But, by 2012, the 34DD bras were the ones flying off the shelves the fastest.
Another interesting find was that women aren't just physically increasing their bust size; they're shopping to create their aspirational figures. The retailer reported that 70 percent of their bra sales this year have been for padded and push-up bras compared to 36 percent in 2010.
No matter what the size boobs are just fun to play with. You can't help but smile when you say the word
boobies
. Instead of fussing over breast size you should find a bra that shape and size that not only fits you perfectly but helps to support and show off your girls.
In the T.V. special Undress the nation the importance of embracing your breasts and treating them right was finally addressed in length. I highly recommend watching it to learn some key do's and don'ts and also to gain some new found respect to your lovely luscious lumps.
Another issue I want to address is areola and nipple size, which I feel is something we don't really discuss when it comes down to da boobies.
N
ipples may be very small or very large, short or long, inverted, flat or prominent. Nipple size will expand throughout puberty and also when you become pregnant and/or lactating.
The diameter of your areola (the pigmented area surrounding your nipple) is determined largely by the genetic code that you received from your mother, as well as your father. You could have inherited the traits of your areolar size from your father's mother, or even further back into your genetic sources. These will usually enlarge if your breasts increase in size, and they will darken in pigmentation when you become pregnant or lactate. Your areolar shape generally is symmetrical to it's mate on the other side, but if they start out different, they will likely remain different.
I think one of the biggest problems with breast size is the fact that they are everywhere we get so self conscious because what we are supposed to look like is plastered on every add and it's in every porn. We forget that beauty comes in all shapes and also that the women in
porn are mostly made out of plastic.
No offense to people who have fake breasts, if that's what you need to have confidence in your body then more power to you, but my point is that just because some people have large breasts fake or otherwise does not mean that small boobs are not appealing. My ex-boyfriend for one was surprised he was attracted to me because I have large breasts and he
preferred
"cute little perky tits" but he grew to love my extremely bouncy ones as well.
Perhaps you'll be interested in knowing the average breast size in your country (Hello, Russia,

Finland, Sweden and Norway
!):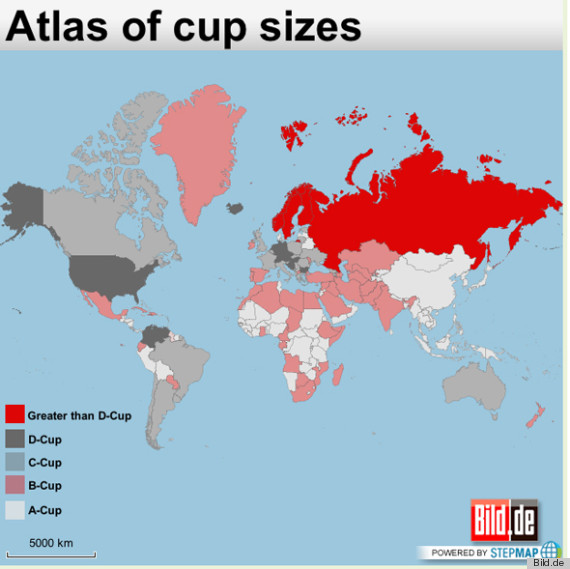 Please feel free to leave comments, suggestions or questions below!
Or email us at geekingnaked@gmail.com if your comment is too sexy for the internet ;)
--
Kinky Kraken
&
Samus Andress
<3