I'm continually surprised about how little women know about their lady bits. So we're dedicating a whole week to that special place between your legs.
Call it what you want pussy, beaver, whatever you please, but it is something that demands respect. It has been
worshiped
over the centuries, but somehow the mystical power it once had over people has been forgotten-- even to those who have them. People are so obsessed with breasts, but it's the vagina who should be the star.
The so called 'Venus' figures, which predate the myth of Venus by a few thousand years, show how revered women were in early times. These voluptuous sculptures show women with large breast and hips and an accentuated vulva. Other, less womanly, parts like facial features, hands, and feet seem to be forgotten. Trace amounts of

ocher

have been found on the sculptures, which has long been the symbol for life since it is the same color of every girl's monthly friend.
In an odd primordial way, these ancient people were more in touch with their body parts (all puns intended) then we are today. They had to be, since sex meant the survival of the species. It was more than just that though. Thanks to evolution, blessing women with a

clitoris (an organ who's sole purpose is pleasure and men's ever sensitive penal appendage) we were brought closer together as a community with shared pleasure (which is a nice way to encourage the special cave person in your life to stick around for a while without bonking them on the head with a large stick.)
By the time the ancient Greeks and Romans ideas about sex (and man's views of
vagina's)
had transformed. They had devised a for a word for lady parts, cunnus. Which translates to split vulva. We also have them to thank for the word
cunnilingus
which was actually used as a noun to describe the person who was pleasing the woman. Women were known to be very sexual beings. Evident in the creation of the alluring Aphrodite (which oddly enough mean's sea foam) a goddess of the more primal physical love and lust. Women's lady bits took center stage, albeit a little overshadowed by the Roman's obsession with cock's (how could we compete with penis
wind chimes
that supposedly warded off evil?)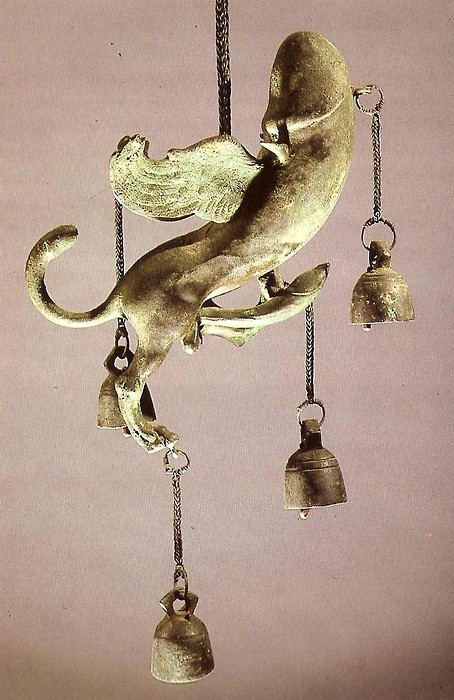 The great Roman poet commonly known as Horace once said "
Nam fuit ante Helenam cunnus taeterrima belli causa
" which translate roughly to "
for most of the war was caused by Helen's vulva
" Blaming the whole
Trojan
war on Helen's nether regions.
One of the many crazy emperors
Elagabalus
, rumored transvestite, once asked surgeons to cut a vagina into his body. One of the first documented cases of serious vagina envy.
Not to be outdone, ancient
Egyptians
were obsessed with sex and sexuality. They painted murals about it everywhere. Including one that shows a woman masturbating with a clay pot. They also invented the first tampon made of softened papyrus.
In an early form of gynecology they had a vaginal fumigator which was kind of like a neti pot for your vagina. You would fill it with healing herbs and water, heat it up until it started to vaporize, then stick it up your whoo ha. They also had the seductress of the ages, Cleopatra who could seduce a man wearing nothing but a carpet, which takes some serious skill.
On the other side of the world when of the
Chinese
courts had ben wa balls made from ivory (and other fancy materials) to pleasure and strengthen their pelvic muscles. It seems there was an explosion of lady bit discovery.
Sadly, as the dark ages began, much of the knowledge and confidence gained by women about their private areas was lost. Death during childbirth rose and wanting to be knowledgeable in the female body was considered a sin. Women were told they didn't want to be sexual beings. Encouraged to protect their lady bites with chastity belts and to only have sex for the sole purpose of procreation.
Of course, the way to get people to screw like bunnies is to tell them not to do it and it is evident that supposedly pious women were getting down and dirty. This is showcased in the ever famous
Canterbury
tales. In The Miller's Tale, a married woman, who is being pursued by two clerics, one in the dead of night wakes her and asked for a good night kiss she leans out the window, butt first, and tricks him into kissing her lips between her legs instead.
This started the double life of women which has worsened by the subsequent ages (most damningly by the
Victorian
era.) On one hand, we had a very physical need for sexual pleasure and not just that we wanted to understand our bodies and how they work. On the other, we were trying to be virginal women, even when married.
This timid (almost fearful) mindset that women have about their own body parts (and men having no idea what it really does) needs to stop. You should take pride in it. A word of caution never compare yours to those in porn those are professional pussies which are all dolled up for the camera.
One day by yourself, you should take a good look at your bits. A hand mirror helps a great deal. Don't just look, admire it. Perhaps the next time you seduce yourself, take time beforehand to explore all the parts carefully. If you don't even know what's going down there how can you direct your partner to do what is most pleasing to you?
Let's do a little anatomy. Forget about those posters of the uterus from health class. Ignore the diagrams about how to insert a tampon. This is the vagina.


The vagina is self-cleansing and self lubricating. Yes, Ladies! Your bits can handle themselves.
Regular washing with warm water and mild, unscented soaps will help keep the outside of the vagina clean. Try to avoid scented tampons, pads, powders, and sprays, which can increase the chance of vaginal infections.
The urethra is the tube in the urinary system that allows urine to be excreted from the bladder to the outside of the body-- this is not the vaginal canal. The small outside opening (meatus) from the urethra in a woman is located between the clitoris and the slightly larger opening to the vagina.
The vagina consists of three layers of tissue. The mucosa is the layer on the surface that can be touched. It consists of mucous membranes and is a surface similar to the lining of the mouth.
Unlike the smooth surface of the mouth lining, the vagina contains folds or wrinkles. The next layer of tissue is a layer of muscle, concentrated mostly around the outer third of the vagina. The third, innermost layer consists of fibrous tissue that connects to other anatomical structures.
The internal walls of the vagina itself do not have a great supply of nerve endings, thus are not very sensitive to touch. The outer one-third of the vagina, especially near the opening, contains nearly 90 percent of the vaginal nerve endings and therefore is much more sensitive to touch than the inner two-thirds of the vaginal barrel.
Normally, the vagina is shaped like a flattened tube, the sides of which are collapsed on each other. It is not a continually open space, or "hole" as often thought by both women and men. It's potential space.
Because of its muscular tissue, the vagina has the ability to expand and contract, like a balloon, allowing a baby to pass through during childbirth, or adjusting to fit snugly around a tampon, a finger or any size penis.
Here are the highlights of working your way around the Va Jay Jay:
First up, the clitoris
From "The Princess and Her Pea: The woman who moved her clitoris, and other ruminations on intercourse orgasms," Bonk by Mary Roach
Once upon a time, there was a princess named Marie. She had long, thick curls and beautiful brown eyes, and her clitoris was three centimeters away from her vagina. This last bit was very depressing for the princess. She could never manage an orgasm during intercourse, and she felt certain that the far-off placement of her clitoris was the reason. Princess Marie— whose last name was Bonaparte and whose great grand-uncle was Napoleon—was a passionate woman with a commanding libido. Yet sex left her unsatisfied. Her troubles had partly to do with her husband Prince George of Greece, a latent homosexual, who, she wrote in her diary, took her on their wedding night "in a short, brutal gesture, as if forcing [himself] ... and apologized, 'I hate it as much as you do. But we must do it if we want children.'" But you could not hang the princess's discontent entirely upon the gigantic handlebar moustaches of Prince George. For intercourse with the Prime Minister of France also left her cold, as did intercourse with her husband's aide-de-camp and the three other lovers that she took while married to George.

Marie, who disliked Greece and lived mainly in France, went so far as to seek scientific proof for her anatomical theory of frigidity. ...
The clitoris is a small bud-like formation that is located slightly above the opening to her vagina, at the top of her inner labia. Clitoris size and shape differs from woman to woman, but (the part you can see) is generally between 1/8 to 3/8 of an inch in size, but rivals the penis in size. It's packed with nerve endings and becomes engorged when aroused.
Ah, the mysterious G-spot, even more elusive than the clitoris.
The G-spot is the bean-shaped, spongy tissue of the paraurethral gland, which is analogous to the male prostate. The actual area (which is more like a tube than a spot) is only about the size of a quarter, but it feels rougher to the touch than the surrounding tissue. Because the G-spot is composed of erectile tissue, it swells up when blood rushes to it. (and can move.)
It is located about one to two inches back from the vaginal opening inside the front vaginal wall. The "front" wall is the wall of the vagina on the same side as the belly button.
This is the spot people are trying to get you to hit with that "come hither" motion. Another way to hit this spot is via anal play (something we'll be talking about later.)
The not quite so well known U-spot is the opening to the urethra (located just above the vaginal opening, above the lips.) Many women enjoy gentle stimulation in this area with fingers and tongues.
When using fingers to stimulate the U-spot, simply slip the fingers in gently above the clitoris, at the opening of the vagina. Do not apply too much pressure because every part of the vagina is sensitive and should be handled with care.
Massage the U-spot carefully; vary your finger motion horizontally and vertically. Her pleasure is in your hands. A little tip is to put saliva on your fingertips before stroking her so you should ask her to suck your fingers before using them. Saliva allows your fingers to glide on the U-spot and maximizes her chances of having an orgasm. You can wet your finger more by slipping it deeper into the vagina.
The

anterior fornix erogenous zone

(also known as the

AFE zone

,

AFE

,

A-spot

,

epicenter

,

deep spot

or

second G-spot

) is reportedly a

zone

that, when stimulated, can lead to rapid

vaginal lubrication

and

arousal

, sometimes without any other form of stimulation, with continued stimulation resulting in an intense

orgasm

.
The technique to this spot involves applying pressure to the area, making a scooping motion, and stimulating other parts of the vagina. The claim is that if the technique is practiced for at least 10 minutes a day, it will make vaginal lubrication and orgasms regularly attainable, even without
foreplay
.
The vagina is a muscle, so what can you do to make it nice and strong? (Put down the spinach!)
Kegel exercises are also called pelvic floor exercises because they treat and prevent pelvic floor weakness. The pelvic floor is a "hammock" of muscles that hold the pelvic organs in place.
Kegel exercises are easy to do and can be done anywhere without anyone knowing.
First, as you are sitting or lying down, try to contract the muscles you would use to stop urinating. You should feel your pelvic muscles squeezing your

urethra

and

anus

. If your

stomach

or buttocks muscles tighten, you are not

exercising

the right muscles.
When you've found the right way to contract the pelvic muscles, squeeze for 3 seconds and then relax for 3 seconds.
Repeat this exercise 10 to 15 times per session. Try to do this at least 3 times a day. Kegel exercises are only effective when done regularly. The more you exercise, the more likely it is that the exercises will help.
As a good tip, try doing your Kegel exercises for the duration of a red light when you're driving. Or there are also Kegel balls that are inserted into the vagina, which can strengthen your pelvic floor muscles.
Please feel free to leave comments, suggestions or questions below!
Or email us at geekingnaked@gmail.com if your comment is too sexy for the internet ;)
--
Kinky Kraken
&
Samus Andress